Zimmer Says Disguise & 'Different Wrinkles' Helped…
2 min read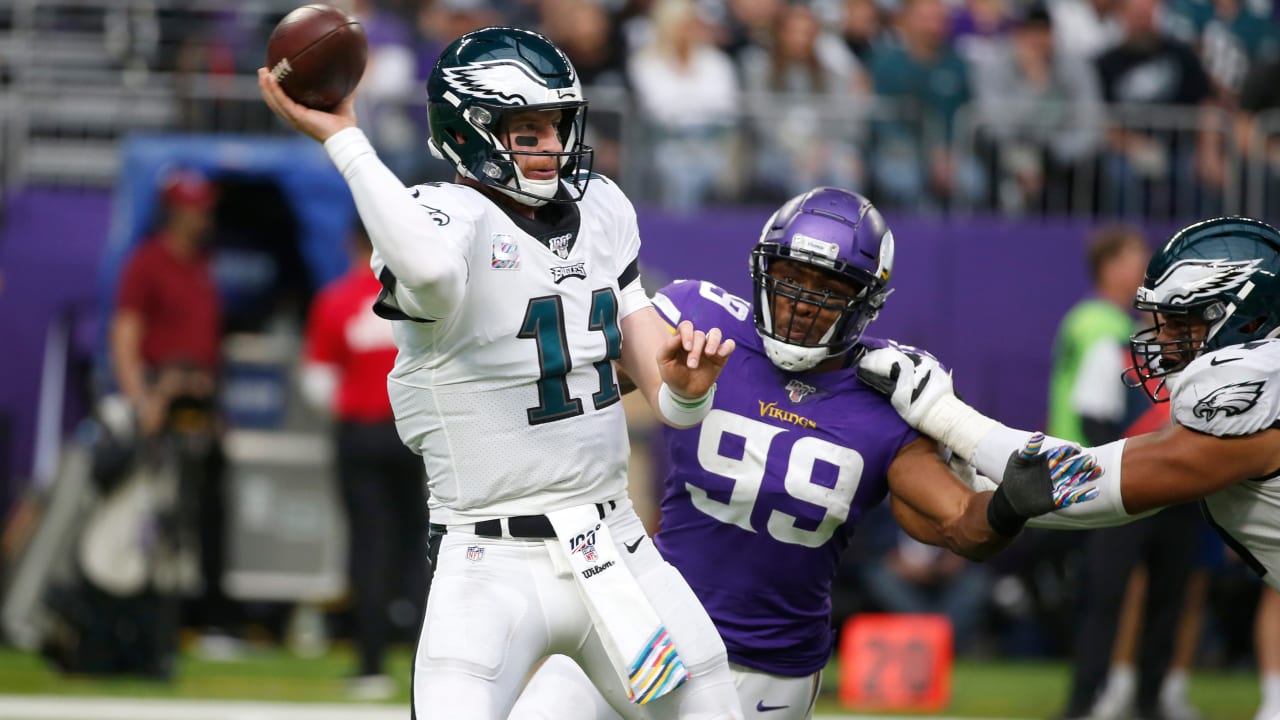 Here are four other topics Zimmer addressed during his podium session:
1. Great performance by Griffen
Through six games this season, defensive end Everson Griffen has played impressively.
Against the Eagles, Griffen totaled three tackles (coaches' tally), four quarterback hurries, two passes defended and an interception of Wentz.
"He's playing excellent – maybe as good as I've seen him play since he's been here," Zimmer said. "What makes Everson really, really good is his effort that he plays with, the violence that he plays with, and he's going to make it a full-day affair for that offensive tackle that he's going against.
"And we're asking him to do some things that, really, defensive ends don't want to do, and he goes in there and does them," he continued. "Like getting in the A-gap yesterday – he was probably excited about that, but some of the things he's not excited about, but he does it because it's what we ask him to do."
2. Wearing a '3-piece suit'
Following Sunday's win, quarterback Kirk Cousins said during his postgame press conference that he tries to play each game "like an executive in a three-piece suit."
"That's kind of how I view it," Cousins said. "And that means just staying consistent and calm, and there's an intensity there, absolutely. But it doesn't mean you're an emotionally unsteady, either."
Zimmer was asked about the comments Monday and responded that "he's fine" with whatever helps Cousins play the best. He did elaborate, however, that the quarterback was not without emotion during Sunday's game.
"I saw some pretty good emotion out of him yesterday. There was some good emotion after a couple of passes that he threw," Zimmer explained. "He'll get fired up during the games and practice. He'll get fired up a little bit. So, each guy has to be their own personality and if that's how he feels he plays the best, I'm good with that.
"We've got other guys that don't wear three-piece suits, that's for sure," Zimmer added with a chuckle.
https://www.vikings.com/news/presser-points-zimmer-says-disguise-different-wrinkles-helped-vikings-success-ag