Vikings Rushing Attack Tops 200 Yards in Rout of…
2 min read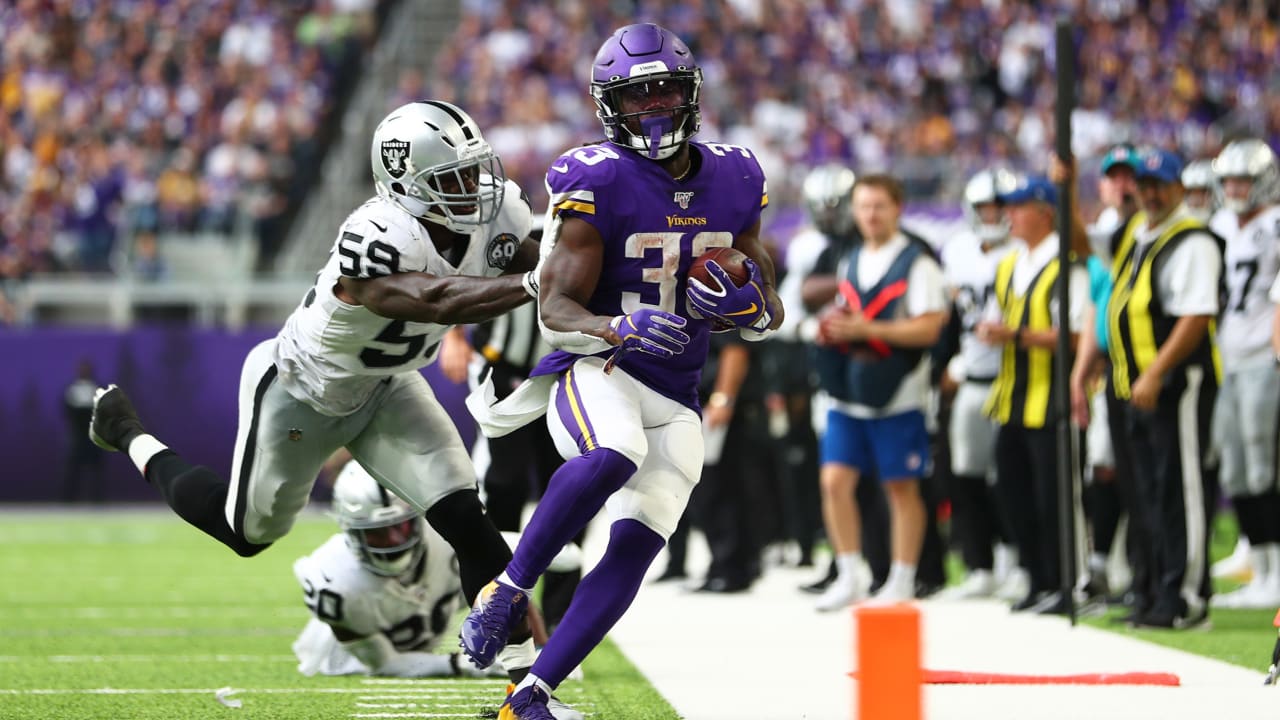 Cook, who began Week 3 as the NFL's leading rusher with 265 yards, tacked on 110 more on just 16 carries and added a 1-yard touchdown run.
In six games with Offensive Coordinator Kevin Stefanski calling plays, he has four games with more than 100 yards on the ground.
Additionally, Cook joined Jim Brown, O.J. Simpson, Emmitt Smith and Curtis Martin as the only running backs to record 110-plus rushing yards and at least one score in at least three straight games to start a season.
"You had Chuck come through this team, and AP [Adrian Peterson], some household names," Cook said. "Just to be a part of those guys, it's great."
While Cook certainly wore down the Raiders defense, he also provided a handful of flashy plays to go along with his hard-nosed running style.
Cook had a 25-yard run where he made defenders miss, and also scooted for 15 yards on a run play on second-and-15.
"I think he broke like three tackles on that one, too," Vikings wide receiver Adam Thielen said of Cook's 25-yard run. "He's a guy where it's kind of fun where we get in those tough situations, because we go in the huddle and we have confidence.
"We have the guys up front and they're grinding on people, and then we have a back that is very explosive," Thielen added. "It doesn't matter where we're at on the field."
Alexander Mattison took cues from Cook's athletic play to score his first NFL touchdown, as the rookie running back scored from 10 yards out in the third quarter while hurdling Oakland safety Curtis Riley.
Mattison, who finished with 58 yards on 12 carries, described his first professional score.
"It felt great. Just to get in there and do things the right way," Mattison said. "The guys up front, they blocked it perfectly, and so it was just one of those things where you go in there and try and use your training, use what you've done and just be special.
"It's instinctual," Mattison added. "I ran hurdles in high school, did long jump in high school, so it's something I kind of have in my back pocket that I just keep there until it's time to bring it out."
Cook said he was thrilled for Mattison to find the end zone.
"That's my little brother, man. We've been grinding since he came into this thing," Cook said. "It's never been a 'me show' or 'I show,' it's been all about the collective group.
https://www.vikings.com/news/vikings-rushing-attack-tops-200-yards-in-rout-of-raiders