Goldman wins inaugural Sweep the Sheds 
3 min read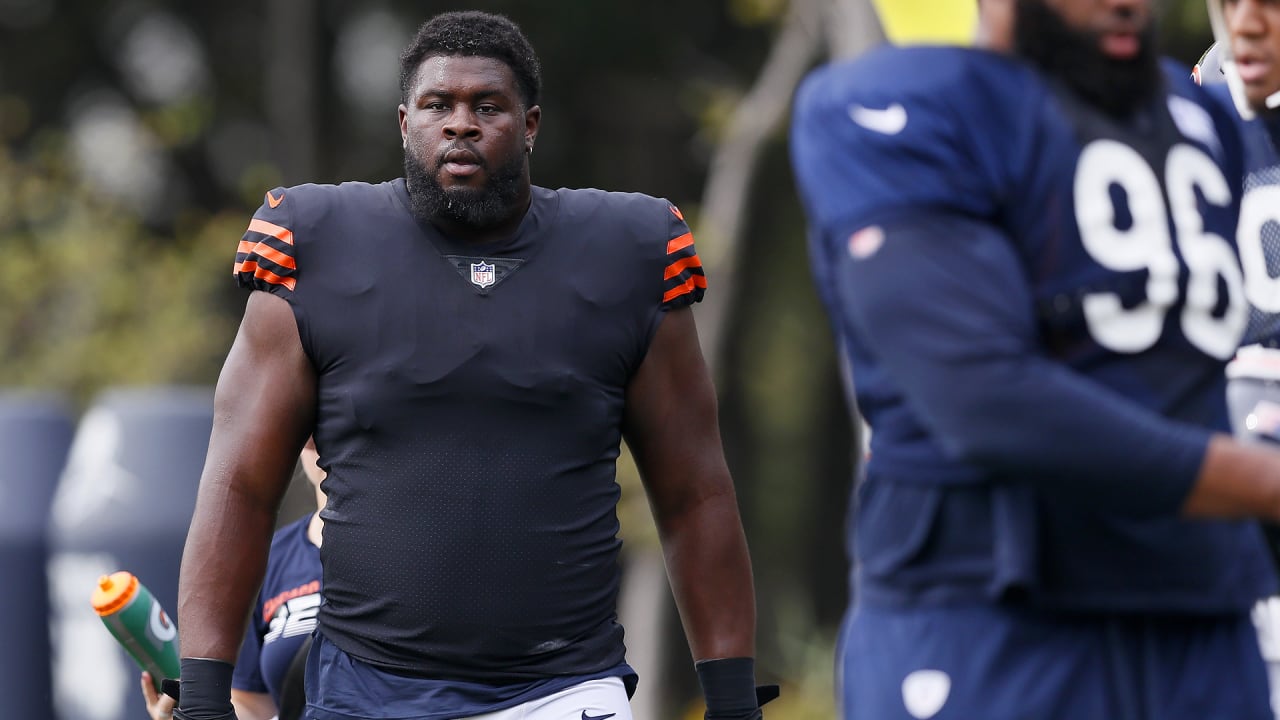 "He affected the line of scrimmage," Nagy said. "He affected the quarterback. He made plays that weren't necessarily in the paper or on the internet, not to mention that he also played through an oblique [injury] and just showed mental toughness and physical toughness."
"Sweep the Sheds" comes from a book entitled "Legacy," which details lessons espoused by New Zealand's highly-successful national rugby team known as the "All Blacks." As part of their culture, All Blacks players clean up after themselves in their locker room—literally sweeping the sheds—as a show of humility.
Goldman was presented with the award, which consists of a metal broom and bear's head, at a team meeting Tuesday. The broom and Goldman's jersey will be displayed all week at Halas Hall.
"I was surprised," Goldman said. "That was the first time [coach Nagy] presented that award to us. The actual sculpture is impressive too."
Goldman has grown accustomed to playing his position without much fanfare. "A lot of my work goes unnoticed and I'm cool with that," he said. "But it's good to get recognized for this."
Winners of the Sweep the Sheds Award will wear a special blank black jersey with orange stripes during the week in practice. The award will travel with the team to home and away games and be displayed in the player's locker on game day.
Goldman's teammates weren't surprised that he won the first Sweep the Sheds Award.
"Eddie's a remarkable guy," said defensive tackle Akiem Hicks. " He manages to come here and do his job as one of the top three nose tackles in the league in my personal opinion and he does it in a way there's no disturbance. He just comes in and does his job and goes home. He is the epitome of a player that sweeps the sheds because he takes care of business."
Goldman was selected by the Bears in the second round of the 2015 draft out of Florida State. He has appeared in 54 games with 50 starts, recording 149 tackles, 11.5 sacks and 15 tackles-for-loss.
"Eddie's a man of few words and he's just one of those guys that comes in and does his job," said first-year defensive coordinator Chuck Pagano. "It's a tough job. When you sit inside and you play the interior defensive line, whether you're an end in our system or a nose like Eddie, down after down after down whether it's a single block or double block, you get double teams. You've got 350 up to 700 pounds weighing on you down after down after down.
"But Eddie does a great job. He comes to work every single day. He's big and he's strong and he's talented. He gives you everything he's got on every single down and every day you get the same thing, so it's not surprising to see him play that way on game day."
https://www.chicagobears.com/news/goldman-wins-inaugural-sweep-the-sheds