First team shines in Dallas Cowboys win over Rams,…
2 min read
The Dallas Cowboys defeated the Los Angeles Rams on Saturday night, 14-10, at Aloha Stadium in Honolulu, Hawaii in their second preseason contest.
The Dallas Cowboys got an early preview of a team they'll face in the regular season when they flew to Hawaii this weekend and defeated the Los Angeles Rams in their second preseason matchup of the year, 14-10. The exhibition was held at Aloha Stadium in Honolulu, the first NFL preseason game in Hawaii since 1976.
The Cowboys' offensive first team played just one series, but it was impressive. It was a 12-play, 97-yard drive resulting in a 14-yard touchdown run by rookie running back Tony Pollard. Quarterback Dak Prescott was a perfect 5 of 5 on the scoring drive, completing passes to tight end Jason Witten, Pollard, and receivers Michael Gallup, Randall Cobb, and Tavon Austin.
Pollard posted 42 yards on five carries and the aforementioned score. Averaging an impressive 8.4 yards per carry, the 2019 fourth-rounder didn't play past that first series along with the other starters.
Leading the Cowboys in receptions was newly-signed tight end Marcus Lucas, who brought in all four of his targets for 20 yards. The most impactful receiver was Devin Smith, who recorded three catches for 24 yards and a third-quarter touchdown reception from backup quarterback Cooper Rush. Gallup led the team with 31 total receiving yards, all from one catch.
Defensively, linebacker Justin March-Lillard recorded a game-high nine total tackles. Fellow linebacker Justin Phillips had a breakout performance, posting seven combined tackles and an interception. The entire defense failed to record a single sack in the contest.
Kicker Brett Maher missed his second field goal in as many preseason games. This time it was a 52-yard field goal attempt off the right hash. Maher pushed the ball wide left.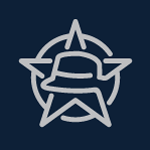 Want your voice heard? Join the The Landry Hat team!
The Dallas Cowboys will now head back to Frisco, Texas to complete the rest of training camp. Their next preseason matchup will be against the Houston Texas at AT&T Stadium. That exhibition is scheduled to kick off on Saturday, August 24th at 6:00 p.m. CDT.