Dog Tag Honoring Fallen Soldier Making Trip with…
3 min read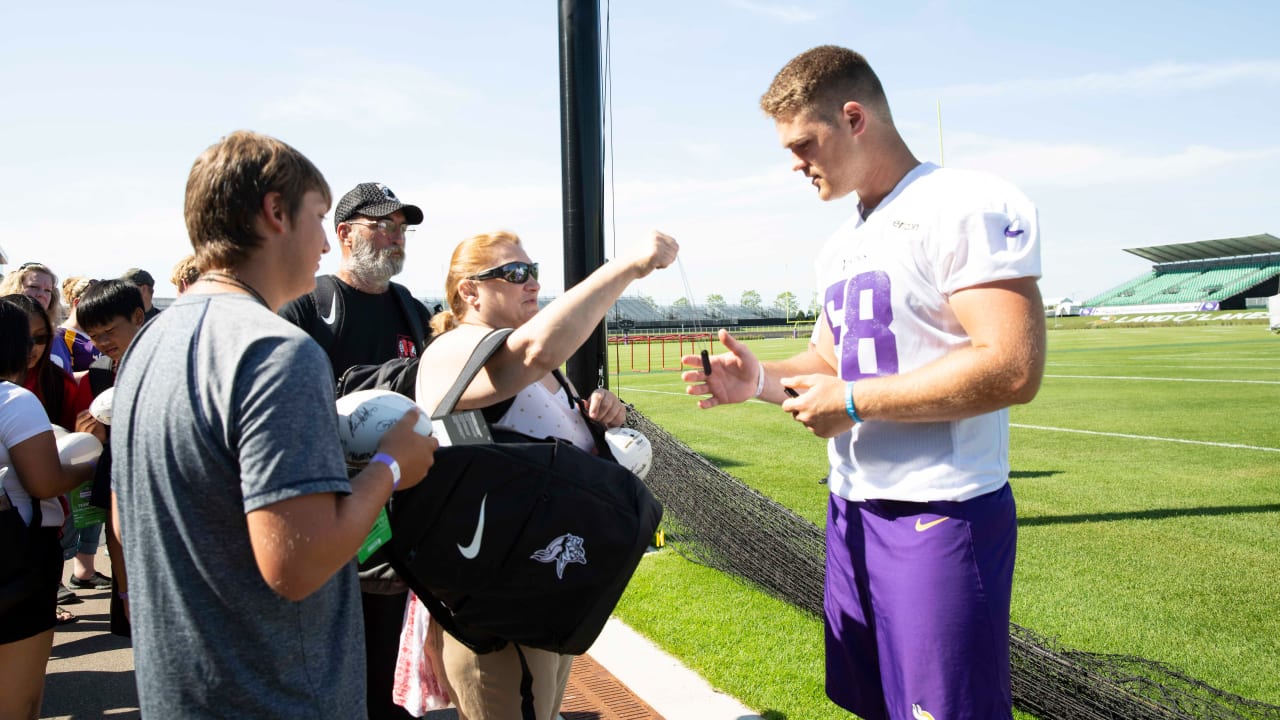 He was 23 — the age that Cutting will turn in October — when he gave the ultimate sacrifice during combat in Zharay, Afghanistan, on April 30, 2012.
Nick's mother, Jacque Carson, has given out the dog tags that feature Nick's picture during her shifts at an Interstate 90 gas station. Customers take the keepsakes on their journeys, enabling Nick to go coast-to-coast and beyond.
"People come from all over," Jacque explained. "I always have a couple of them handy because, this way, he gets to go to places he never went."
There's a couple in Australia that took one back after attending a wedding in Wisconsin, and Nick's memory is also kept alive in Scotland and Germany and New Zealand.
Before the visit, Jacque decided she wanted to give a dog tag to the Vikings for the team's trips. They watched the walk-through session and were greeted by dozens of players who signed autographs and took pictures.
"We got to meet a lot of neat people and interesting guys down on the field," Randy said. "Every last one of them that came through was not just courteous, but they were so respectful. It was really nice to see, instead of how a lot of professional football players are portrayed."
The Carson family wasn't familiar with Cutting's background, but for some reason, Jacque didn't give out the dog tag until he was the final player on the field. Cutting's ties to the military made the moment that much more special for Randy and Jacque, who are both veterans.
"It was fate's way of having a hand in life," Randy said.
Cutting said he appreciates the joy that the family had in sharing the memento of Nick and that he's "honored to be able to carry out something that his family wanted."
"It's always kind of incredible to see how much families have gone through, how excited they are to be able to still carry on their loved one's life," Cutting said.
Football is what took Cutting to Air Force, but basic training, fast-paced challenges, academic rigors and disciplined guidance/strict demands all became things he appreciated beyond the gridiron.
"Being able to have that opportunity, it just kind of opens your eyes to seeing how much more there is to it than football," said Cutting, who is fulfilling a recruiting role that has been approved for his post-graduate commitment to the Air Force.
Cutting also has recited the third verse of "The U.S. Air Force" song that is dedicated to men and women who have fallen in duty before lunches and after games.
"We've said that more times than you want to at lunch, just before we sit down. It definitely hits home when it's somebody from school," Cutting said. "It doesn't matter if it's someone that graduated in the '80s versus someone that graduated in my class. You connect with them on so many levels."
https://www.vikings.com/news/vikings-austin-cutting-dog-tag-honoring-fallen-soldier